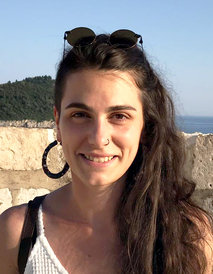 Doctoral Researcher
Main Focus
Eleftheria is currently a PhD Student at the Max Planck Institute of Geoanthropology in the Department of Archaeology and in the Department of Archaeogenetics at the Max Planck Institute for Evolutionary Anthropology in Leipzig . Her research uses multiple lines of evidence, namely ancient DNA analysis, stable isotope analysis and osteoarchaeology to fully explore the genomic signatures, biological kinship, and patterns of individual diet and mobility of the individuals of a Late Bronze Age site in Central Germany. The overarching aim of her research is to reconstruct the life histories and bioarchaeological profiles of these individuals and to shed light on the social structure of this Late Bronze Age community.
Curriculum Vitae
Eleftheria received her BA in Archaeology from Simon Fraser University (SFU), Canada and her MSc in Human Osteoarchaeology (cum laude) from Leiden University, the Netherlands. Her MSc thesis titled "A shiver down one's spine": The use of vertebral measurements and stature as non-specific indicators of stress in order to detect growth disruption and social inequality in post-medieval Eindhoven, the Netherlands, focused on the importance of using adult vertebrae and stature in order to estimate early and later growth disruption in childhood and adolescence, and subsequently to infer social inequality.
Additionally, Eleftheria has gained experience in archaeological fieldwork by taking part in a number of research excavations in Canada, Morocco, Italy, France, Germany and the Netherlands.