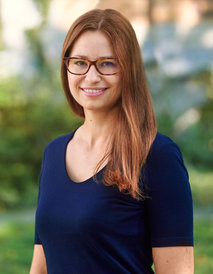 Doctoral Researcher
Department of Archaeology
IMPRS
Main Focus
Barbara's doctoral research at the Max Planck Institute and the University of Tübingen investigates the global dimensions of the dispersal of ancient aromatics and spices throughout Asia and East Africa using biochemical and biomolecular analyses to characterize organic remains. Her current projects aim at reconstructing the use of smells and scented plants in the past using biomolecular profiling of plant secondary metabolites, lipids and proteins. In 2020, Barbara was awarded an Add-on Fellowship for Interdisciplinary Life Science from the Joachim Herz Foundation for her PhD research. She also won a 2022 AEA Small Research Grant awarded by the Association for Environmental Archaeology to fund her project titled "Reconstructing olfactory landscapes of ancient Arabia using biomolecular approaches".
Curriculum Vitae
Barbara received a BA in Archaeology of the Ancient Near East in 2015 and a MA in Studies in Ancient Near Eastern Civilisations in 2018 from Freie Universität Berlin. From 2016-2018 she was trained in metabolic profiling and organic residue analysis (ORA) at the Laboratory for Natural Product Chemistry at Technical University, Berlin. Between 2013 and 2019 Barbara worked with the Orient Department of the German Archaeological Institute (DAI) in several field projects, such as the excavations in Uruk (Iraq) or the exploration of the ancient oasis of Tayma (Saudi Arabia). Furthermore, she was involved in archaeological research projects and sampling trips in Iran, Syria, Oman and Greece.

Publications
Dal Martello, R.; von Baeyer, M.; Hudson, M.; Bjorn, R.; Leipe, C.; Zach, B.; Mir Makhamad, B.; Billings, T.; Muñoz Fernández, I. M.; Huber, B. et al. (2023). The domestication and dispersal of large-fruiting Prunus spp.: a metadata analysis of archaeobotanical material. Agronomy 13 (4), 1027
Huber, B., Vassão, D.G., Roberts, P., Wang, Y.V., Larsen, T. (2022). Chemical Modification of Biomarkers through Accelerated Degradation: Implications for Ancient Plant Identification in Archaeo-Organic Residues. Molecules, 27, 3331. https://doi.org/10.3390/molecules27103331

Huber, B., Larsen, T., Spengler, R. N., Boivin, N. (2022). How to use modern science to reconstruct ancient scent. Nature Human Behaviour 6, 611–614. https://doi.org/10.1038/s41562-022-01325-7  https://www.shh.mpg.de/2146681/ancient-smells
Abar, A., D'Anna, M.B., Cyrus, G., Egbers, V., Huber, B., Kainert, C., Köhler, J., Ögüt, B., Rol, N., Russo, G., Schönicke, J., Tourtet, F. (Eds.) (2021). Pearls, Politics and Pistachios. Essays in Anthropology and Memories on the Occasion of Susan Pollock's 65th Birthday. Heidelberg: Propylaeum.
Huber, B., Bernbeck, R., Fazeli-Nashli, H. (2020). Radical Restructuring in an Early Village: Rahmatabad (Fars Province, Iran) in the Fifth Millennium BCE. In Otto, A., Herles, M., and Kaniuth, K. (eds.). Proceedings of the 11th International Congress on the Archaeology of the Ancient Near East Vol. 1: Mobility in the Ancient Near East. Images in Context. Archaeology as Cultural Heritage. Engendering Near Eastern Archaeology. Societal Contexts of Religion. Shaping the Living Space, p. 425-436. Wiesbaden: Harrassowitz.
Huber, B., Hausleiter, A., Dinies, M., Christopher, J., Säumel, I., Pham Th. L. H. (2018). Interdisziplinäre Untersuchungen von Räuchergefäßen zur Rekonstruktion antiker Gerüche. Die Arbeiten der Jahre 2016-2018. e-Forschungsberichte des DAI, Faszikel 2, 120-125.
Research Projects
Research video: Investigating ancient plants by using biochemical and biomolecular approaches