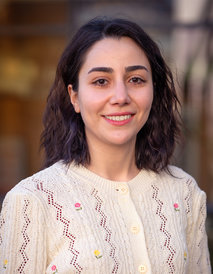 Postdoctoral Researcher
Department of Archaeology
Main Focus
Dr. Mariya Antonosyan is a postdoctoral fellow at the Department of Archaeology MPI-GEA, in her research she is using traditional zooarchaeological methods combined with novel proteomics and stable isotope techniques to explore human-animal interactions, human subsistence economy and their dwelling environments during key transitional periods of deep history.
She currently leads 'TRANSArmenia' project, that aims to investigate human-environment interactions in some key transitional periods of human history: shift to settled lifestyle, rise of social hierarchies, growth of urban centers, emergence of states, and the expansion of empires in the territory of modern Armenia.
Mariya is also engaged in other projects focusing on late Pleistocene faunal ecology and its relation to climate change and early human expansion in north America.
Curriculum Vitae
Mariya received a B.Sc. in Biochemistry and an M.Sc. in Zoology and Conservation from Yerevan State University, Armenia. In 2021 she completed her Ph.D. in molecular biology in the Institute of Molecular Biology, National Academy of Sciences of Armenia. Her Ph.D. dissertation was the first study to apply bulk bone metabarcoding genetic method to reconstruct Middle to Upper Palaeolithic faunal diversity in the Caucasus region. 
As part of doctoral research she gained wider experience of working at different lab facilities such as L. Hirszfeld Institute in Wroclaw, Poland (2018), and Swedish Museum of Natural History, Stockholm (2019). Her research primarily focused on ancient and modern DNA research which also ignited her interest in diverse application of biomolecular proxies, particularly for answering critical question of human ecology and evolution.
Since 2016, Mariya is actively involved in the organization of archaeological excavations of Palaeolithic Karin Tak cave and management of the fossil data collection. Since 2020 she is leading excavations in Chalcolithic Yeghegis-1 rock shelter in the frames of TRANSArmenia project.
In 2019 Mariya was awarded a Best Young Scientist Youth Award by Ministry of Education, Science, Culture and Sport of Armenia and an excellence Fellowship for PhD research by the Foundation for Armenian Science and Technology.
Since 2022 Mariya is a Scientific staff representative of the MPI of Geoanthropology in the Human Sciences Section of the Max Planck Society.
Selected Journal Articles
Ara, Avagyan, Igityan Hayk, Gevorgyan Mikayel, Sahakyan Kristina, Mariya, Antonosyan, Tepanosyan Gevorg, Atalyan Tatul et al. "Geology and Palaeoenvironment of Karin Tak Cave (Lesser Caucasus)." Journal of Cave & Karst Studies 84, no. 1 (2022).
Dinas, Petros C., Eleni Nintou, Maria Vliora, Anna E. Pravednikova, Paraskevi Sakellariou, Agata Witkowicz, Zaur M. Kachaev, Anahit, Hovhannisyan, Mariya, Antonosyan et al. "Prevalence of uncoupling protein one genetic polymorphisms and their relationship with cardiovascular and metabolic health." Plos one 17, no. 4 (2022): e0266386.

Antonosyan, Mariya. "Karin Tak Cave, Lesser Caucasus, as a Potential Site for Genetic Reconstruction of Palaeoecology." Ajastan Kensabanakan Handes 72 (2020).
Antonosyan, Mariya, Frederik V. Seersholm, Alicia C. Grealy, Milo Barham, Daniel Werndly, Ashot Margaryan, Agata Cieślik et al. "Ancient DNA shows high faunal diversity in the Lesser Caucasus during the Late Pleistocene." Quaternary Science Reviews 219 (2019): 102-111.

Antonosyan, Mariya, and Gabrielyan, Ivan. "On the fossil Elephantidae of the republic of Armenia." In Proceedings of the International conference «Biological diversity and conservation problems of the fauna of the Caucasus–2», pp. 23-26. 2014.